"
Christopher Alberts, the Senior Vice President of Communications for the National Geographic Channels, told me that they have "one of the best policies there is", but refused to send it to me or tell me anything about it.
Why are these factual networks, whose survival depends on building trust with their audiences, so reluctant to clarify their ethics policies with respect to wildlife?
What does it mean for conservation if high-rating shows on leading channels are portraying wildlife in a negative, seemingly misleading way to millions of viewers worldwide? And why are so few people saying anything about it?
"
—
The Guradian's Adam Welz eviscerates NatGeo, Discovery, Animal Planet, and the History Channel's horrific violence against animals, including shooting bears, wolves, wolverines, crocodiles, snakes, and many other animals in full view of the camera.
Welz's piece struck a cord with me this weekend. This is not education, it's promotion of fear of nature for ratings and money. It's exploitation to the vilest degree. I believe these channels have to answer for this bizarre blood lust.
Western banks financing illegal south-east Asian land grabs
Heartbreaking and absolutely infuriating. Click through for article and video.
"
Although there is widespread agreement on the need for adaptation measures to limit the risks posed by climate change, there is no clear consensus on how much adaptation will cost or how it will be paid for. A recent World Bank report suggested that the price of adaptation in developing countries alone will be $70–100 billion a year between 2010 and 2050, while other studies suggest these figures are too low.
The overall bill for adaptation will depend on the severity of climatic changes and the range of measures chosen. The most expensive adaptation measures involve modifying infrastructure and improving coastal and flood protection, so costs will be highest not necessarily where vulnerability is greatest but in regions with a lot of infrastructure that needs to be climate-proofed. Lower-cost measures that can be used as part of an adaptation response include changing behaviours, shifting farming practices and making regulatory reforms.
Costs will be lower if countries plan ahead – for example building roads with drainage systems that can cope with severe rain, rather than retro-fitting these features later on.
"
Death threats, intimidation and abuse: climate change scientist Michael E. Mann counts the cost of honesty
"The scientist who has borne the full brunt of attacks by climate change deniers, including death threats and accusations of misappropriating funds, is set to hit back.
Michael E. Mann, creator of the "hockey stick" graph that illustrates recent rapid rises in global temperatures, is to publish a book next month detailing the "disingenuous and cynical" methods used by those who have tried to disprove his findings. The Hockey Stick and the Climate Wars is a startling depiction of a scientist persecuted for trying to tell the truth.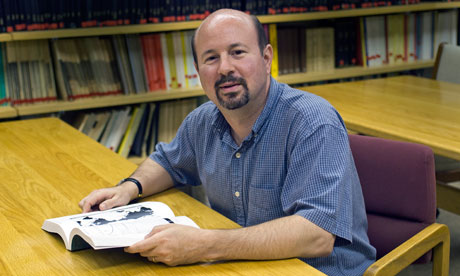 Among the tactics used against Mann were the theft and publication, in 2009, of emails he had exchanged with climate scientist Professor Phil Jones of East Anglia University. Selected, distorted versions of these emails were then published on the internet in order to undermine UN climate talks due to begin in Copenhagen a few weeks later. These negotiations ended in failure. The use of those emails to kill off the climate talks was "a crime against humanity, a crime against the planet," says Mann, a scientist at Penn State University.
In his book, Mann warns that "public discourse has been polluted now for decades by corporate-funded disinformation – not just with climate change but with a host of health, environmental and societal threats." The implications for the planet are grim, he adds.
Mann became a target of climate deniers' hate because his research revealed there has been a recent increase of almost 1°C across the globe, a rise that was unprecedented "during at least the last 1,000 years" and which has been linked to rising emissions of carbon dioxide from cars, factories and power plants. Many other studies have since supported this finding although climate change deniers still reject his conclusions.
Mann's research particularly infuriated deniers after it was used prominently by the UN's Intergovernmental Panel on Climate Change (IPCC) in one of its assessment reports, making him a target of right-wing denial campaigners. But as the 46-year-old scientist told the Observer, he only entered this research field by accident. "I was interested in variations in temperatures of the oceans over the past millennium. But there are no records of these changes so I had to find proxy measures: coral growth, ice cores and tree rings.""
UK secretly helping Canada push its oil sands project: Canadian interests and oil lobby win coalition's support for highly polluting process in runup to European fuel quality vote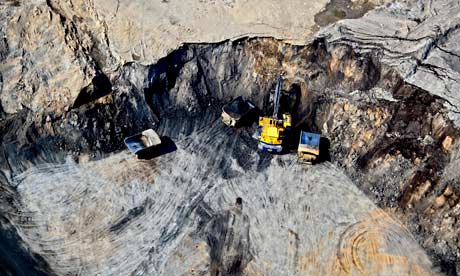 "The UK government has been giving secret support at the very highest levels to Canada's campaign against European penalties on its highly polluting tar sands fuel, the Guardian can reveal.
At the same time, the UK government was being lobbied by Shell and BP, which both have major tar sands projects in Alberta, and opened a new consulate in the province to "support British commercial interests".
At least 15 high-level meetings and frequent communications have taken place since September, with David Cameron discussing the issue with his counterpart Stephen Harper during his visit to Canada, and stating privately that the UK wanted "to work with Canada on finding a way forward", according to documents released under freedom of information laws."
Read the rest: The Guardian
Is Al Gore now a help or hindrance to the global warming cause?
I'm not too polite to ask! 
Personally, I love Al, and appreciate all he's done. But this is an important question that most progressives are too polite to ask. 
China to cap energy use in national low-carbon plan Limit is expected to form cornerstone of five-year plan to curb surging greenhouse gas emissions
Breaking: Italy joins Germany and Switzerland to shut down nuclear power
See also: EU anti-nuclear domino effect, here.